Features at a glance
Watch this two minute video to find out about why Geelus is the #1 software to manage your entire dry cleaning, alterations or tailoring business.
Cloud based

Access from the browser or install on any computer at no extra cost
Unlimited upgrades and added features at no cost
No upfront investment or lock in contracts
No maintenance fees
No data loss or damage by virus or hard disk crash
No backup is required. All data is backed up by our powerful servers around the globe
Access any time anywhere
Mobile reports on all smart phones and tablets
Runs on your PC and MAC

Easy to use
Customer Loyalty program (similar to frequent flyer points that can be converted to currency)
Customizable (add/remove/modify)

Customize items/tasks/pricing
Customize receipts
Customize services
Customize charts
Customize email invoices
Customize SMS notification
…

Built exclusively for Dry Cleaning, Clothing Alterations, Tailoring and Sewing and Embroidery industries.
Affiliate tracking system; allowing to work as an agent for another dry cleaning or alterations business.
Time sheets system for all users allowing unlimited number of sign ins and sign outs per day.
Offer/Discount tracking system
Multi-Tax support for orders and sales
Extensive reports

Income
Orders
Outstanding orders
Offers
Work done by employees (performance report)
Payments
Affiliates
Customers

Charts

Daily/Weekly/Monthly orders
Comparison chart for new/returning clients
Daily/Weekly/Monthly visited clients
Comparison chart for all the supported services (Dry Cleaning, Clothing Alterations, Tailoring and Sewing, Garment Printing and Embroidery)

Optimised for touch displays
Automated order ready SMS to clients
Automated order ready email to clients
Automated email invoice to the client
Integration with the world's most popular email marketing systems (AWeber/MailChimp…)
Save and print client measurements using graphical measurement system.
Track all activities in your business. (orders/jobs done/payments/employees, customers, …)
Employee roles for data access security (role based authentication)
Built-in SMS marketing (as easy as selecting your customers, type your message and send!)
Secured cash drawer
Bar code printing and scanning for orders / customers
Accept multiple payments and payment types for each order
Multiple people can process one order (each doing a part of the task)
Bulk invoicing/account receivables
Quotes/Bookings
Strong Pick up / Delivery management system with mobile integration – click to navigate to the destination.
Cloud Based
Take your business to the clouds
Cloud computing is the new generation of software applications. It is also known as SAAS (software as service).
This model of computing is used by the largest companies in the world like Google, Apple, Microsoft and Yahoo. In our daily life, we are constantly using applications like Facebook, Gmail, Hotmail or Twitter. All of these applications are cloud based or use SAAS model.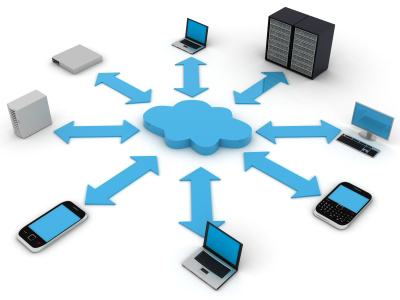 Geelus is also taking advantage of cloud based technologies to help businesses around the globe. Following are some of the benefits and advantages of the Geelus cloud based systems compared to the traditional traditional software applications:
Access from the browser or install on any computer at no extra cost
Unlimited upgrades and added features at no cost.
No upfront investment or lock in contracts. You only pay for what you use.
No maintenance fees (like servers, licences, backup, technicians …) and you will only pay for a predictable monthly subscription
No data loss or damage by virus or hard disk crash
No backup is required. All data is backed up by our powerful servers around the globe
Access any time anywhere
Mobile reports on all smart phones and tablets like iPhone, iPad, Android and Windows phone
Runs on your PC and MAC
Your business can be integrated with the best online marketing platforms available.
In essence, cloud computing helps you focus on your business instead of dealing with technical difficulties caused by hard disk failure, Windows or MAC crashes, damages, viruses and so on.
Start focusing on what matters to your business by signing up for our free trial today!
Easy to use
Training is one of the critical steps before starting to use any new software application.
We have developed the magnificent unique user interface of Geelus and taken extra steps to make sure the interface is convenient to use and easy to learn for owners, managers and employees.
Ease of use, avoiding clutter and following the simplicity has always been our top priority in developing Geelus. Our professional user interface designers follow the rule of simplicity though out the entire design process.
Geelus cloud based software is designed based on the daily needs of the businesses using it. No computer or IT skill is required! We are proud of having people more than 68 years old, with no prior computer knowledge, learning and using the software everyday.
Total employee training time varies between 10 minutes to half an hour per employee. Using our professionally designed help system and the training videos, you can train your employees spending not even a minute! You just send them to the help page and we will take of the rest.
However if you are an owner and need some more information or support, our help desk and friendly customer service team are here to help you immediately. You can simply send your question from within the software and receive a response within an hour of sending the question.
Geelus guarantees the shortest training time for you and your staff.
Customizable
Fully customizable to meet your needs
The Geelus cloud based system comes with a pre-defined set of configurations tailored for each industry supported. However every businesses is unique.
Therefore Geelus is flexible enough to gives you unlimited power to customize the software to meet your specific business needs.
Everything is configurable, from garment types, tasks and pricing to the SMS and email sent when the order is ready.
Below is three different configurations for the clothing type selection screen: (click on the images to zoom)

Built exclusively for you
Built exclusively for you
Would you rather to use a system designed for your industry or coffee shop!?!

Unlike most of the general purpose pos software applications out there in the market which are made for coffee shops or restaurants and then tailored for dry cleaning or sewing businesses, Geelus cloud based pos solution is made solely for the dry cleaning, alterations and sewing industries. This makes a considerable difference when it comes to overall workflow, performance, simplicity and effectiveness of the software.
Our fine quality software is made specifically to meet the needs of the supported businesses. We constantly receive ideas and feature requests from hundreds of our clients around the world, priorities the requests and keep improving the software to meet those needs. After the software is updated, every client will automatically be switched to use the latest version and though take advantage of the new features.
Geelus is a result of the constant feedback from our clients around the world. Signing up for our free trial and start using this powerful business management tool now!
Work as an agent
Large number of businesses using Geelus have business relationship with other businesses and receive or pay a commission. Without the help of a software, it would be very tedious and time consuming to keep the track of all the orders sent or received.
Using the affiliate tracking system in Geelus, now you can easily set an order to be related to an affiliate business and at the end of the month get a report for that. The system will also shows you the total amount and your share of the orders at any time.
e.g, you own an alterations business and work as an agent of a dry cleaner and get 40% commission.
You simply set the application up so that at the end of each day, you have all the orders amount broken up into dry cleaning and alterations, as well as "store total" value which is equal to:
(Dry cleaning orders) * (40%) + (Alteration orders)
Employee time-sheet
Employee time sheet management tool
Using the complete and easy to use sign in/out feature, you can keep the track of the employees work hours and entry/exit times as well as number of hours worked per week.
Only users with "Owner" role can edit/delete the times if required. For employees and managers the time sheet is read-only and they can either view the time data entered or sign-in – sign-out.
Users can sign-in/out multiple times during the day and the system will automatically calculate the hours worked and the break. You can also set a minimum break time (image below) like half an hour, and the employees only sign in when they start and sign out when they end their job. System will automatically apply and calculate the minimum break.

Offer/Discount tracking system
Offer/Discount tracking system
Managing and tracking the offers is one of the most important tools that every business must have. By knowing the efficiency of each one your offers, you'll be able to easily identify your best marketing methods and concentrate on those to create a better result.
Geelus is equipped with a powerful discount/offer management tool. You can create offers and measure the efficiency of each one of your offers over time.
Reports
Geelus reports help you truly stand on top of your business. We are constantly adding to the reports based on the feedback we get from our clients.
Report security and access levels
Geelus gives you full control over setting the "report access level" for each individual user.
All users must enter a pin or user name and password to view the reports. The system will limit what information is accessible based on the access level allocated to the user.
e.g. Users with "Owner" role will have full control to the system and all information, whereas users with "Employee" role will have a more limited access, (which is configurable by the "Owner")
Three levels of access: Employee, Manager and Owner to protect the data and privacy.

Data safety and privacy is very important to us and Geelus is designed to enforce it. With three level of access; Employee, Manager and Owner data access is restricted according to the role. You can assure your data is safe. No one can access your data unless you authorize.
On the report window you can get the following order reports during any time period:
Report by order date
Outstanding Orders report by date
Report by pick up date
Report by orders complete date (picked up and paid)
Report by offer used (during a specific time period)
Report by user set the job done
Report by clothing type – task and task detail
Report for each affiliate business
And more …
*An employee can only view the report of one day. (no edit)
*A manger can see a few days worth of data as well as edit. (configurable number of days)
*The owner(s) access is unlimited.
(These settings are default and can be configured)
Cash / Card / Cheque report
For any given period of time, you can see the total orders broken up into service types and total credits broken up into cash, cheque or card payments. All you need to do is to set the time period and click "View Report" button.
Credit report:

Orders report:


Charts
Charts are powerful tools that can help you make strategic or tactical decisions about your business. Using the power of charts you can identify if your business is growing or sliding. If you need to advertise more or you need to improve your quality and customer support.
There are three types of charts in Geelus:
Order chart
New clients chart
New versus returning client orders chart
Note: Charts access is limited to the people with "Owner" role because of the sensitivity of the data.
This chart shows you the amount of your orders for each service you provide on a daily, weekly or monthly basis.
Most of our clients provide multiple services like dry cleaning and alterations service. Using the combined chart feature, they can see the progress of all their business in all services at a glance.
In the following image you can see the amount of alterations, dry cleaning, tailoring and embroidery services for a test business. (green, red, yellow and purple colors)
New VS returning clients chart
This is one of the most useful charts you will be using. Because this chart will shows your business's main source of income, whether it is from returning clients or new clients.
This chart will give good indication of whether you need to advertise more to get new clients or to improve your quality of service to keep your existing clients.
In short, this tool gives you the power to micro-manage your business more efficiently.
You can't manage what you don't measure.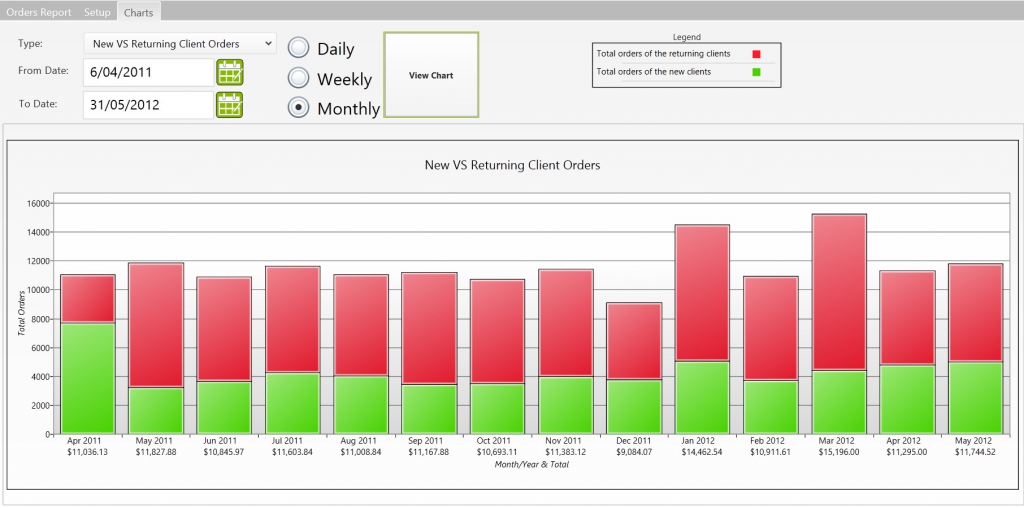 This will show you how many new clients visit your shop each day, week or month within the selected time period.
Order ready notifications
Auto-Sending SMS /Email reminder to clients when orders are ready to be collected
Regardless of you having a dry cleaning business, a sewing business or an alterations business, this definitely is one of the most time and money saving tools you must have.
In today's busy world with so much to do, it's very common to forget or procrastinate collecting the orders forever. These are orders that you have already spent your time and resources on them and expect a return on your investment (in case you haven't charged the client in advanced). If your clients procrastinate picking up their orders, there is a considerable chance of they never come. You either need to call them, send them SMS or some how communicate with them.
We prevent these kind of headaches by having the software prompt you to send an SMS or email when the job is ready for pick up.
You can set to be automatically prompted to send either email or SMS. Sending email is free of charge. Sending SMS comes at a very low cost.
People used this service are trilled with the result and love this feature. You can see part of what we hear everyday from our clients in the testimonials page.
Once you mark an order for email or SMS notification, when all the outstanding orders from a client is set as done, the application will prompt you to send email or SMS notification.
The SMS or email is absolutely configurable to meet your needs.
Save/print client measurements
Have your clients measured using the Geelus graphical measurements tool and save it or print it using the thermal printer you already use for invoicing.
Being able to save the client's measurements is a time saver for tailors. Geelus has a powerful tool to capture all client measures.
(Click on image to zoom)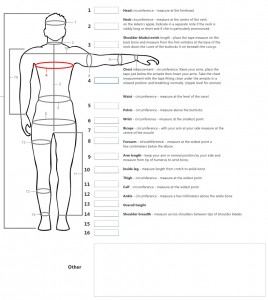 If you would like to print the measurement and provide it to your client, Geelus uses your thermal invoice printer to print the measures. No extra printer is required.
Full business activity tracking
Business activity tracking system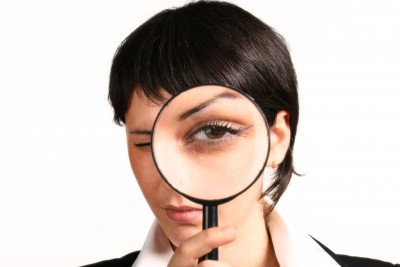 Geelus automatically tracks an order from the second you submit it. Every interaction with the system requires users to put their pin number.
Using this technique, you will always know who submitted the order, who charged the client, who worked on the order, who completed the order and finalized the transaction at the end and exactly on what date and time.
Role based authorization
We take data security and privacy seriously. To keep your data safe from unauthorized access, you will need to select a user "Role" when creating a new user in your system.
There are three roles to select:
Employee – no edit capability
Manager – limited edit (configurable)
Owner – unlimited access
Employees and Managers are limited in viewing the reports and editing/deleting the orders. They also cannot see the charts and edit the time sheet data. Owners on the other hand have unlimited access and can create other users (using "Employee", "Manager" and "Owner" role).
Geelus alert system will notifies the owners if any order is deleted by an "Employee" or "Manager". The owner can decide to permanently delete the order or restore the order back into the system.
SMS/Email marketing
Sending SMS to your clients is as easy as a few clicks.
You can easily broadcast SMS to all your clients using the built-in SMS feature.
Each SMS can be personalized to have your client's name, address or any other details. i.e:
Hello John
Visit our shop before the end of Feb to receive 15% off.
Best Regards,
Geelus dry cleaning & alterations
Email marketing is the most powerful modern marketing method. geelus is integrated with the best email marketing in the world.
This will ensure your emails gets delivered right into the inbox Not Junk Folder. No one likes to have his/her email blocked by the major email providers like GMail, Hotmail or Yahoo so choosing the right email delivery system is a critical step for every business.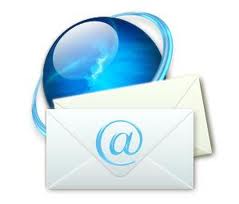 As soon as you send marketing emails to a large number of people, your email is considered as spam and does not get delivered.
To ensure the delivery of your marketing emails, you need to make sure you use the right system. Using the right system not only ensures the delivery but also gives you options to automate your whole marketing system.
Following are some of the features that a right email marketing system must have:
High delivery rate
Auto responder
Broadcast email
Hundreds of templates that you can use to create professional looking emails
Training videos to make it easy to use
Best delivery rate and time
Scheduled email delivery
Integration with your website, Facebook, Twitter …
Employee Performance
you need to create a top performance workforce
Wouldn't it be great to know how much each employee has been earning the business in any period of time?
Geelus cloud based point of sale system can help you precisely identify your top performance workers from others.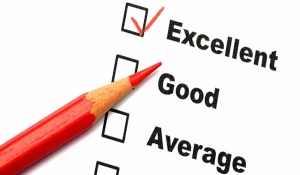 For any period of time, you can get a report of the jobs done by each employee and compare it with the hours he/she worked. This will help you know how each employee is performing.
Multiple payments & methods

Geelus supports multiple payments and different payment methods on each order.
e.g. your client chooses to pay half of the total amount when drop off and the rest upon pick up. He/She would like to pay the first half using credit card and second half by cash. Using Geelus POS system you can easily handle complicated payments like these, and the data can be viewed easily at any time – broken up into different payment methods.
You can create as many payment methods as you like and track the payments that use the new payment methods in the report.
Bar code printing & scanning
To facilitate the use of software especially once the order numbers grow more that five figures, you can use bar code feature to speed up the order/client search.
You can also print an id card for your customers and start entering their orders by scanning their card.
This feature can greatly help building customer loyalty in addition to facilitating the order/client search.
All bar code scanners are supported.
Printing laundry (washable) tags
Printing laundry/dry cleaning (washable) tags
Upon placing an order, the system will automatically print a dry cleaning/laundry tag for each item. These types of tickets should be stapled to the garments for the purpose of tracking. The type of paper used is "Wet Strength Paper" to ensure durability throughout the washing and dry cleaning processes.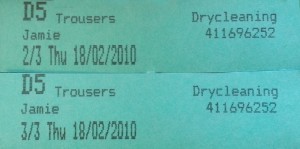 Store and client receipts
Printing store and client receipts
When the order is submitted, depending on your settings, receipt(s) will be automatically printed from the receipt printer. All data in the receipt is configurable. There are two types of receipts:
Client receipts includes your business name, address, working hours, website, email, contact details and order details.
Store receipts includes only the order details to minimize the amount of paper used.
Depending on the configuration, bar code is also printed at the end of each receipt.