Welcome to the August 14, 2023 release of features. We hope you like the latest updates in this version, the highlights are as follows:
Productivity and performance report
You can now get a clear picture of how your staff is doing with our "Complete Productivity & Performance" report. This tool shows you everything in one place, helping you make smart choices to improve work, identify strengths, and address areas for improvement. This report is ideal for Alterations, Tailoring, and Bridal businesses.
In order to use this tool you need to setup each employees pay type (Hourly rate or commission base).
Here are the steps on how to set it up:
Navigate to Settings > Users
Click on the user's name that's being modified
If an employee works on an hourly rate, enter the value in the "Hourly rate" field.
If an employee works on a commission basis, then enter the percentage in the "Commission rate" field. Please note that there are two commission rate options.
– Commission from transactions > An employee is paid on a percentage basis for transactions they place.
– Commission from processes > The employee receives a percentage of the work they have completed. In other words a percentage of the work they have marked done.
Definition of each column in the Productivity & Performance report.
Employee > Displays the names of employees.
Transactions befor surc/disc > Amount before any surcharges or discounts.
Transactions > The total amount of transactions the employee created.
Processes before surc/disc > The total amount of jobs marked as done before surcharges or discounts.
Processes > the total amount of jobs marked done.
Duration > The total time it takes to complete the job. When the item duration is zero, the duration is calculated using the item price.
Time logged > It shows how many hours the employee worked.
%Duration/Log > Calculates the employee's efficiency percentage
Hourly wage > The total amount earned by hourly staff, based on their time logs multiplied by their hourly rate.
Commissions > The total amount of commissions earned by the staff. A popup window will appear when you hover over the value and it will display whether it is from a transaction or a process.
Total pay > This is the total amount you're due to pay your staff. Commissions + Hourly wage.
Net processes > Taking the total pay and subtracting it from the processes.
%Wage/Processes > Hourly wage divided by processes.
Net transactions > Subtracting the transactions from the hourly wage.
%Wage/Transactions > Hourly wage divided by total transactions.
Hourly Staff Payment and Commission Calculation
With the new update, you can enter hourly rates for hourly employees and commission rates for commission-based employees. You can view the calculations on the "Productivity and performance report".
Hourly rate and commissions rate can be setup by navigating to "Settings > Users"
Tracking New and Returning Customer Percentages
As part of this new update, we have improved the interface for the "New vs Returning Customers" report.
This report displays new and returning customer numbers and transaction totals on a percentage basis along with a number value.
This insightful report empowers you to make informed decisions and tailor your strategies to maximize customer engagement and loyalty.
Expanded Multi-Store Reports
In this new update, we have also expanded Multi-Store reports to include "New vs returning customers", and "Employee's productivity and performance" report that will allow you to view detailed report for each store in one place.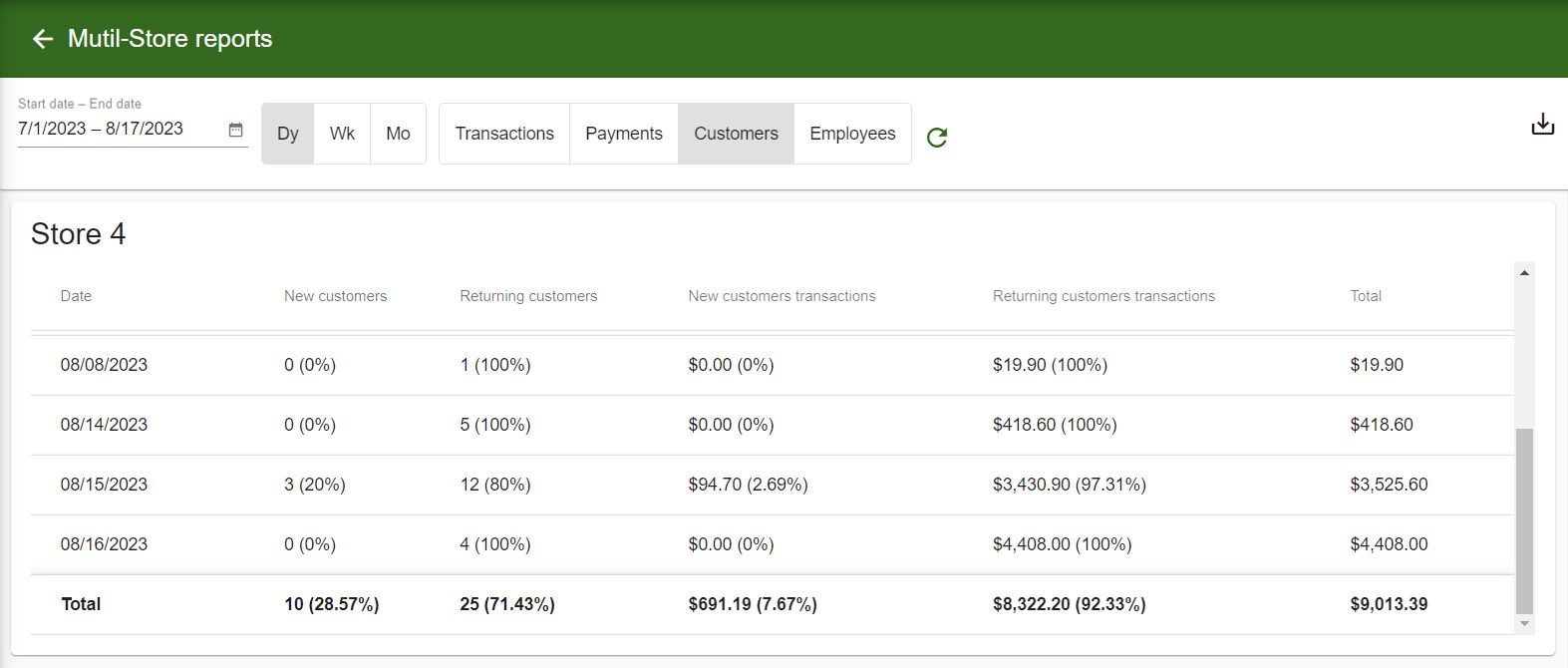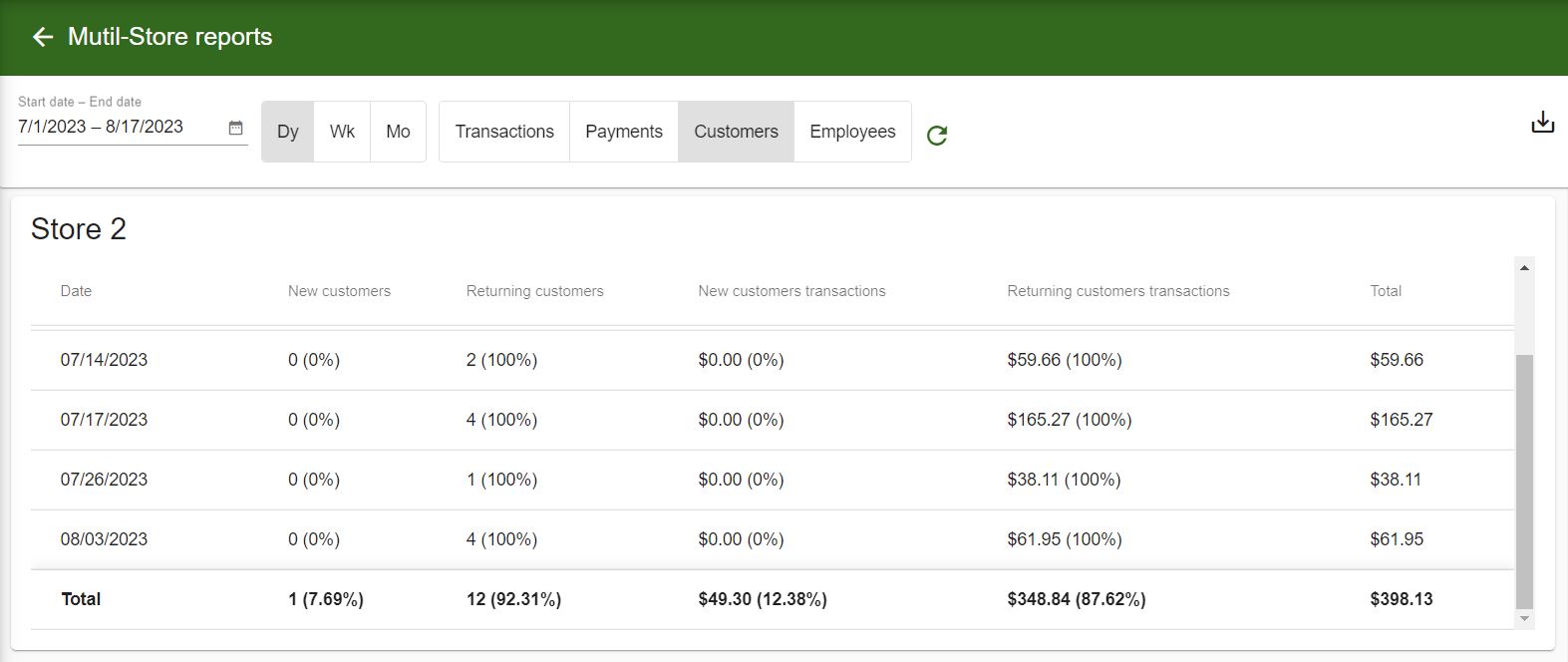 Manual Communications
This update introduces manual communication options for email, text messages, and HTTP requests. Options for manual email and text messages are enabled by default. You can access/edit manual communication options by going to Settings > Registers > Manual communications.
You can manually send email, text messages, or HTTP requests by clicking the 3 dots next to the transaction on transaction history.